Every time I come back to Hong Kong, I get to see all the Build a School donations that children from all corners of the world send to me. Some of you might be asking – why are they sending me money? Well, many years ago, I made a request to all the children around the world and started the Build a School for a dollar project. If everyone donated their pocket money or spare change to me, no matter how much or how little, even just one dollar, I will match every dollar with another dollar and use all your donates towards charity.
Over the years, my office has continuously received donations from children all over the world. This time, I saw that a group of students from Germany drew many Chinese paintings and auctioned them off as a charity fundraising event for my Build a School for a Dollar project. In the end, they raised $650 Euros and sent it to my office. Also, a group of children from America amazingly wrote a Chinese letter to me. I was so surprised! All donations received by these young children, and my promise to match every dollar with another dollar, will all be used towards building another "Dragon's Heart" school.
I'm so happy to receive your continual support towards charity over the many years. You are the peace and hope of our future! Thank you all for making this world a better place and more heartwarming!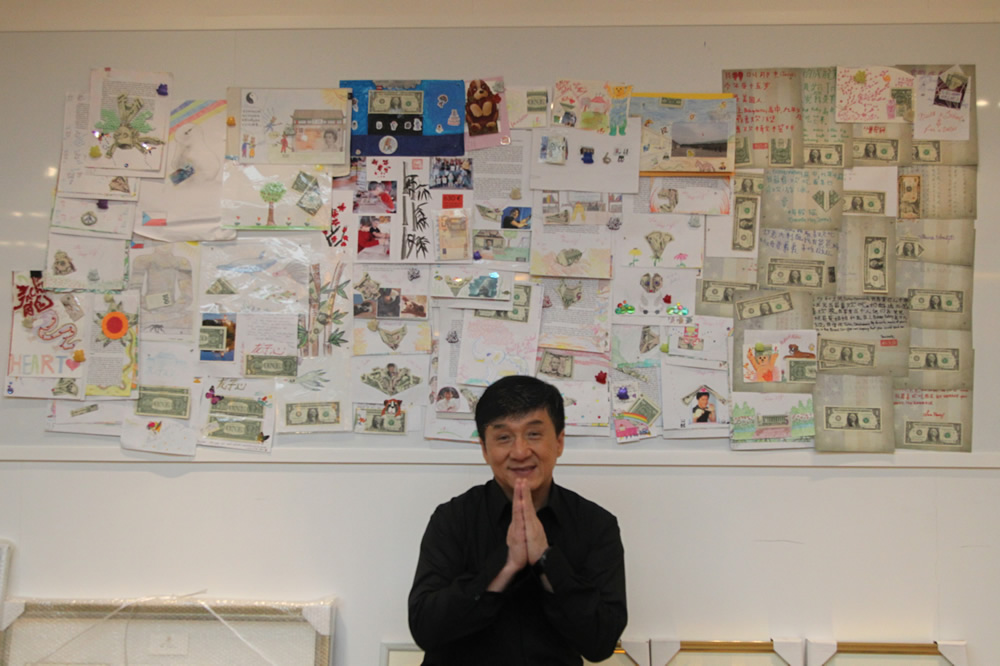 每次回到香港,都會看到全世界小朋友寄來的錢。為什么會寄錢給我呢?有的朋友可能還不知道,很多年前我對全世界的小孩子發出了一個呼吁,大家可以把多出來的零用錢或是自己賺的錢做慈善,無論金額多大或多小,他們捐多少,我就會跟著捐雙倍。這些年以來,我的公司都會不斷收到全世界小孩子們寄來的錢。這次我看到一班德國小朋友畫了中國畫去義賣,給我寄來了650塊歐元,還有一班美國小朋友,竟然寫了中文信給我,太惊喜了!這些小朋友們捐的錢,加上我自己的那一份,都會用于"龍子心"小學的慈善項目。很高興這么多年以來一直有全世界的小朋友們跟我一起做慈善,你們就是未來和平的世界的希望!謝謝你們讓世界更溫暖更美好!
Text and Photos Copyright © 2013 The JC Group
All Rights Reserved