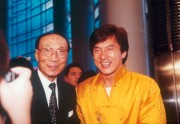 My staff told me that legendary film pioneer, Run Run Shaw, passed away. My heart dropped when I heard the news. It's hard to describe my feelings.
Thinking back to when I was young, when I just started makin movies, I remembered how much I respected and admired the Shaw Brothers. They worked so hard to establish an empire in the film industry. Mr. Shaw once said, establishing a business and earning money was a typle of satisfaction; distributing money and donating funds was a kind of pleasure.
When I finally had the ability to help others, I always took Mr. Shar as my model example. No matter what the future has planned for me, be it film making or charitable work, I will promise to continue doing my best.