It's been a couple of weeks since the end of the fan club tour and the Jackie Chan International Action Film Week in Datong. The first thing I want to say is, a BIG heartfelt 'Thank You' to all the fans from all over the world who traveled the distance to attend my fan club tour. I know the tour wasn't perfect and I ask for your forgiveness and compassion if things didn't go as planned. I hope those of you who attended had an enjoyable time! My staff have been telling me about all the wonderful stories fans have been sending in, and your videos about the trip. Thank you thank you thank you! Honestly, without your continuous support over the many years, I wouldn't be where I am today. And I hope I can keep going, make more movies for you to watch, sing more songs for you to listen!
July 16-18, 2019
Before going to Datong, I was so happy and amazed at my wonderful staff. They spent days preparing and packing all the gift bags for every fan! I wanted to make sure that every fan who was coming to China would feel welcomed by the bag of goodies. Inside the pack included 4 T-shirts (in case fans didn't bring enough clothes to wear), 4 specially designed wrist bands (so fans know they're part of the tour), a light wind jacket (just in case fans get cold), a rain coat (in case it starts to rain in Datong), a silk scarf (souvenir), a cap (in case it's really sunny when they visit the tourist attractions), a face towel (to wipe away the sweat), a set of environmentally friendly stainless steel straws (to help save the environment from straws), a pair of sandals (to wear at leisure), a dragon logo popsocket (quite handy for mobile phones), and some random momento gifts. I just hope that all my fans have a fun and enjoyable trip.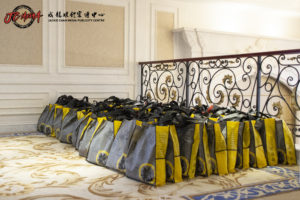 July 19-20, 2019 –  Datong and Deshengbao  
I arrived into Datong late in the afternoon and was welcomed by the local officials.  They updated me with how Datong has progressed since the last time I was here, also for my Jackie Chan International Action Film Week event.
Early the next day, I had a charity visit and forum to attend at 'Deshengbao' (得勝堡) – literally meaning 'Victory Fort'. Deshengbao is an ancient walled fortress almost on the border with Inner Mongolia. This 16th-century landmark is part of the Great Wall and many of its houses inside the village are built with the bricks from the Great Wall.
Organizers arranged for me to travel from Datong city to Deshengbao by helicopter, so I could experience an aerial view of the beautiful city.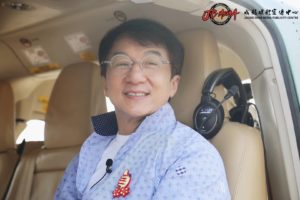 After landing at the fortress, I was welcomed by so many local villagers who were waiting to see me on the side. I was then taken on a tour around the fort, through the fortress gate, and visited a local resident who was still living in the brick houses. We sat down, enjoyed a cup of tea, and talked about how he spent most of his life protecting and conserving the lovely history of Deshengbao. He even used the bricks from his own house to re-build the crumbling parts of Great Wall.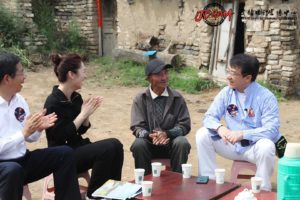 After chatting with the local resident, we walked out to the main street and tasted some of the many local foods that the villagers had prepared. I tried the noodles and pancakes and cucumbers and eggs… wow, so many yummy things to try. But there were just too many. I got full very fast.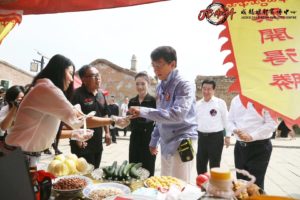 After touring the fortress, I attended the "Star Lights Campaign on Poverty Conservation: Conservation of The Great Wall" forum. We discussed on how we can help eliminate poverty and the things we can do to preserve our history, like the Great Wall in Deshengbao.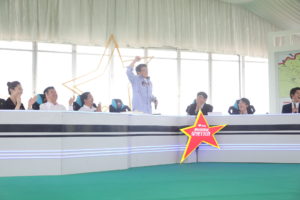 July 22, 2019 – Visiting the Huang Hua Fields
I woke up early in the morning and prepared for another day of charity, visiting the Huang Hua (Yellow Flower) Fields in Tangjiabao Village. We drove for about 45 minutes into the outskirts of Datong. When I arrived at Tangjiabao Village, I noticed the familiar fields of Huang Hua. I'm not sure if you remember but I visited the Huang Hua villages last year when I was in Datong, helping eliminate poverty by encouraging local production of products such as the Huang Hua. This year, I have noticed how the facilities, size of the Huang Hua fields, production lines and factories have greatly improved since my last visit, which made me very happy.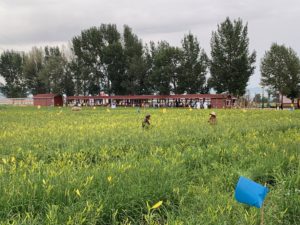 After visiting the Huang Hua fields, local officials took me on a quick tour of the Huang Hua factory nearby.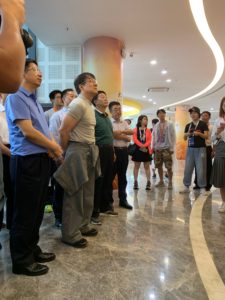 For those of you who don't know what is 'Huang Hua', basically it's the Yellow Flower of the vegetable which can be cooked as a vegetable and has been historically used for medicinal purposes. I know my fans who attended the Datong Fan Club Tour were gifted some Huang Hua to take home as a souvenir, and many have asked how to eat it! I'll ask one of my staff to write some instructions on how to use/eat the Yellow Flower.
While visiting the Huang Hua factory, I noticed quite a few other local products that are well known to Datong, such as fresh Goji berries, melon, tomatoes, even mountain ram. I truly hope that the increase in production will help fight the battle against poverty. Of course, I saw so many local village people waiting for me outside, lining along the sides of the roads. I'd like to say a heartfelt thank you to all the local people for coming out to see me that day!
July 25, 2019 – Fan Club Meeting
After attending a meeting and forum by the lakeside in the afternoon, I made a surprise entrance to see my fans at the 2019 International Fan Club Meeting in Datong. Did you enjoy my entrance on a jet-boat on the Wenying Hu? My heart was pumping so fast with excitement because I could hear all my fans cheering and shouting and I just wanted to see my fans!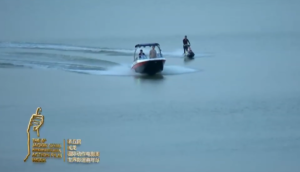 The fan club meeting was set by the lakeside in front of an ancient fortress, which looked so beautiful from the boat. As I got off the boat and walked up the steps towards the stage, I could hear everybody chanting "Jackie! Jackie! Jackie!…" And then as soon as I saw my fans, everyone started screaming! And I couldn't stop smiling! The happiness and excitement I felt was uncontrollably and so amazing. I know that fans from over 45 different countries travelled very long distances to see me in China. From the bottom of my heart, I want to say again a very big "thank you" to every single fan who came to the fan club party. I was so happy to see you, and of course I must say "sorry" if things didn't turn out how you expected. As there were so many people taking part in this tour, my staff tried their best to make the best arrangements for you. Thank you for your patience, your mutual understanding, and your tolerance towards others. I truly hope you had a great time, and I hope we can meet again soon.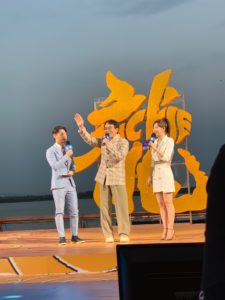 I'm very grateful to see so many familiar faces who have been with me all these years, through wind and rain, and are still with me today. You have no idea how much your support means to me. Without you, I wouldn't be where I am today.
I just hope everyone enjoyed the evening!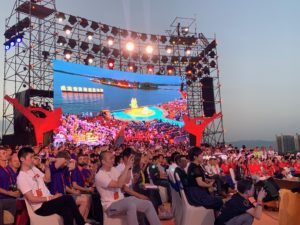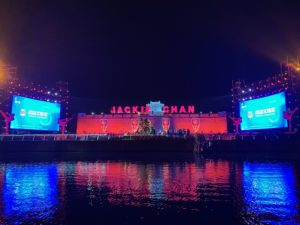 July 26, 2019 – Forum at Yungang Grottoes
I attended another forum for the Action Film Week, this time at a very beautiful historical location called the Yungang Grottoes. It's hard to find the words to describe the place. Have a look at some photos below and see what you think.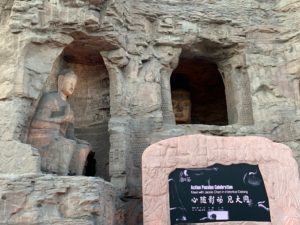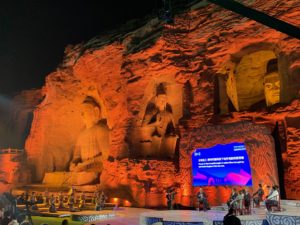 The topic of the forum was The Mergence and Breakthrough of Action Films. Event organizers invited actors and directors from all over the world! Including actor Adrian Brody (Dragon Blade), director Martin Campbell, Tsui Hark, Japanese actor Yasuki Kurata.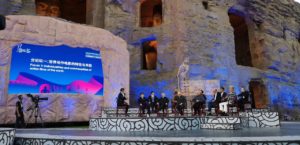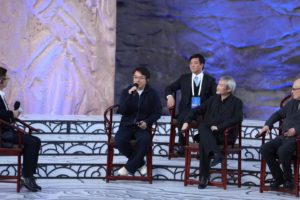 July 27, 2019 Closing Ceremony
Time goes by so fast. When I woke up in the morning, I suddenly realized that tonight was the closing ceremony for my Action Film Week. My staff had told me that my fans will be attending the closing ceremony as well. Some of them were lucky enough to walk the red carpet representing their country!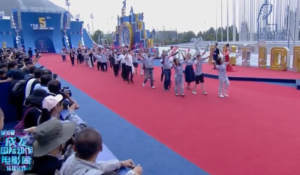 This year, the closing ceremony was held at the Datong Sports Stadium. So many friends came in support of the event, including Leehom Wang, Jonathan Lee, Emil Chau, Crystal Liu, Stanley Tong, Eric Tsang, and many many others. I'd like to take this opportunity to thank all the guests who attended the event, and a big congratulations to all the winners.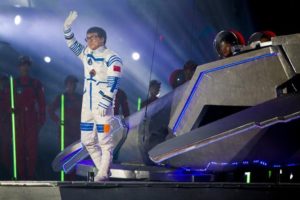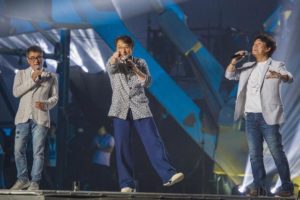 July 28, 2019 – Farewell with Fans, Back to Beijing.
After waking up, taking a quick shower and eating a little breakfast, I had to rush to the airport and fly back to Beijing. But of course, before heading to the airport, I wanted to say goodbye to my fans before leaving Datong. I asked my staff, "where are they right now?" My fans didn't know I was going to see them to say goodbye, it was a little surprise. We managed to arrive in time for a big group photo.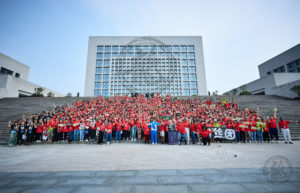 Although it was farewell for now, but I'll make sure that we'll see each other again very soon! A very big thank you to all the fans who traveled across the world to see me. I love you all so much!
I'd also like to thank my staff for helping us make the fan club tour happen. I know they spent nearly a year in preparations – the difficult task of organizing fans from all corners of the world; making sure that everything was done fairly without being bias; and as numbers to the event were limited, my staff had the grueling mission of drawing the lucky attendees out of the several thousand fans who registered their interest.
Till we meet again…..
Text and Photos © 2019 The JC Group
All Rights Reserved