The past couple of days, I've been busy having meetings in LA (Los Angeles). When my staff showed me this news about my book, I was so surprised and very touched.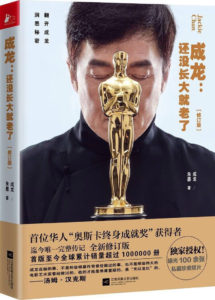 Actually, this year I've been surprised two times so far. My first surprise came from my JC Stunt Team on a TV program where in the end, we all cried like little kids. It was definitely a moment I'll never forget. My other surprise came from seeing the revised version of my autobiography. I'd like to take this opportunity to say a heartfelt thank you to Momo (the author of my book) and the publishers for your thoughtfulness. Since the release of this publication, my book has been translated into many different languages and appeared in many bookstores all over the world. To me, I consider this a blessing, and also like a kind of honor.
I'd like to say a big 'thank you' to all my fans and readers from around the world. I'm very happy that you enjoy reading my story. Even though receiving the Honorary Oscar is now the past, my movies and my life still continues. On behalf of all the onscreen and offscreen crew from the productions of Skiptrace, Railroad Tigers, and Kung Fu Yoga, I'd like to say 'thanks' to every single audience for your support and watching it in theaters. Don't worry, the next movie is coming very soon. I promise I'll continue to do my best. So to be fair, let me bring the next surprise to you!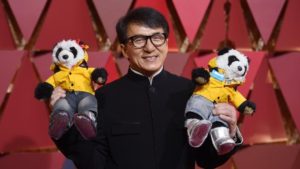 正在洛杉磯開會,看到這個消息,很驚喜也很感動。今年收穫了兩個驚喜,一個是成家班給的,最後一群大男人哭得像小孩一樣,那一幕我會永遠記得。另一個就是這本修訂版,謝謝墨墨和出版社這麼用心。這本書自從出版以來,已經翻譯成了很多種語言,出現在了很多國家的書店,對我來說是種幸福,也是種榮耀。感謝全世界的影迷和讀者,很開心你們喜歡看這些故事。奧斯卡落幕,電影和人生還在繼續,在此代表《絕地逃亡》《鐵道飛虎》《功夫瑜伽》所有台前幕後的夥伴,感謝所有買票的觀眾,請大家放心,下一部電影已經在路上,我會繼續努力,下一個驚喜,由我來帶給你們!
Text and Photos ©2017 The JC Group
All Rights Reserved