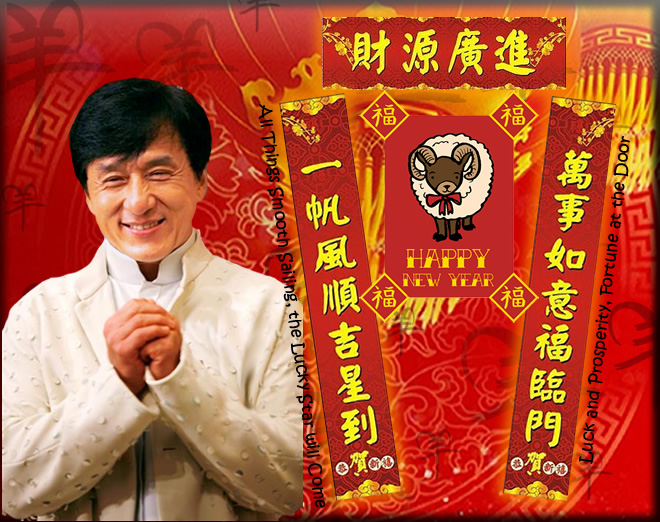 Happy Chinese New Year to all my friends and fans all over the world! May the year of the Ram bring you lots of good luck! Lots of peace and harmony! And most importantly, lots of good health and happiness!
One of our Chinese traditions is giving lucky red pockets to our friends and family for good luck and prosperity. I want to share this happiness with all my fans as well. This year, I'll be giving away 100 lucky red pockets (with lucky money inside!) so let's have some fun together and enter the Chinese New Year Couplet Blessings competition.
It is a Chinese tradition to stick New Year blessings and well wishes on the doors of our house as a symbol of welcoming the New Year with good luck. The blessings are normally in pairs, hence the name Chinese New Year Couplet. Below are four couplets for you to match. On the left hand side are the first lines of each respective couplet. On the right hand side are the matching couplets but not in correct order:
1). Luck and Prosperity, Fortune at the Door      A). Study Hard, Work Hard, Make Money More and More
2). Eat Well, Sleep Well, Have Fun Day by Day  B). Lots of Wealth, Lots of Fortune and Lots of Happiness
3). A Year of Good Luck Will Come with Spring  C). All Things Smooth Sailing, the Lucky Star will Come
4). Good Year, Good Life and Good Luck           D). Four Seasons of Rainbows Rolling In
Can you correctly match all the Chinese New Year couplets? Match the couplets on the left with a couplet on the. (For example: 1 – A, 2 – B, and so on.)
The first correct 100 answers will win a lucky red pocket!
How to enter:
Write down your matching answers in the form: eg: 1 – A, 2 – B…
Email us your name, email address, country of residence AND your answers to: (

competition has ended!

)
Make sure that the subject of your email is: Chinese New Year Competition
It's that simple!
The first 100 correct answers will win a lucky red pocket from Jackie Chan. The competition ends on the 8th day of the Lunar Year (February 26, 2015), and winners will be announced on the 10th day of the Lunar Year (February 28, 2015).
Lucky winners will be notified by email, and will also announce the winners on Jackie's Facebook page and Official Website. Be quick and start emailing your answers now!
NOTE:
Only one entry per person will be accepted. Multiple entries from the same person will automatically be eliminated. The JC Group has the right to the final decision on the competition.