Every morning I'm busy because the first thing I do is check my schedule for the day. Today was no exception. However, while busy checking my schedule today, I suddenly noticed it was snowing outside! I love snow in Beijing. People say that heavy snow promises good harvest. I just had a good harvest yesterday with over 600 fans watching my new movie CZ12. Seeing their smiles and knowing that they loved the movie made all the hard work worth every effort.
Today is a very special day, not just because it's the premiere day for CZ12, but it's also a very special date – 12.12.12. This will be the last time you'll see this kind of date in this century! To mark the special moment, I took this photo in the snow at 12pm on December 12, 2012 (12:00, 12.12.12).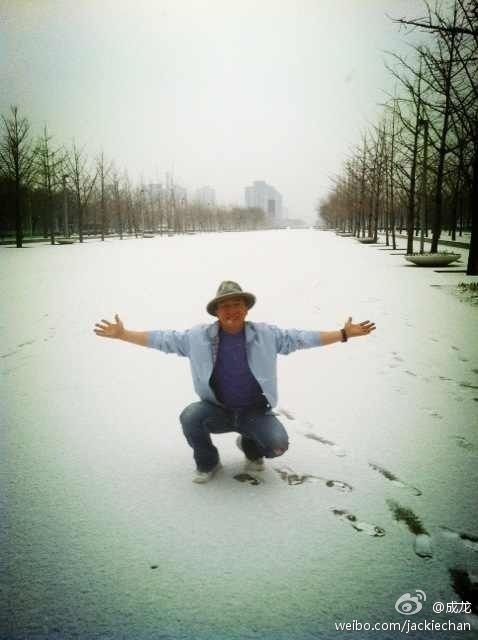 Many friends attended the premiere event in support of CZ12. They included lead actresses who featured in my previous movies, such as Zhang Jing Chu (Rush Hour 3), Crystal Liu Yi Fei (The Forbidden Kingdom), Annie Wu Chen Jun (Police Story 4), Lin Peng (Little Big Soilder), also Angelababy, Yang Kun and many others. Thank you all for coming! I was also very touched because Wang Leehom and Lang Lang came especially to support my movie. Leehom wrote the ending song to CZ12 and he performed it during the premiere event. Lang Lang traveled several thousand miles just to come to the event. I truly appreciate their support.
I'd also like to take this opportunity to thank my production crew who have filmed with me for so long and helped make this movie happen. I was so happy because during the movie, I heard the audience laugh which means they enjoyed the movie. And at the end, there was a very long applause from the audience! I was so overwhelmed; words just cannot describe the feeling I had at that moment. Honestly, dreams are expensive but I deeply treasure the opportunity of filming CZ12 and actually finally completing it! This movie took seven years to prepare and one year to shoot. As many of you may already know, I traveled to Paris, Taiwan, Vanuatu, the South Pacific, Australia, Latvia, Beijing, Hong Kong…all over the world and filmed action on land, sea and air.
Well known calligraphy writer, Wang Yong Yu, especially wrote the title for CZ12 《十二生肖》 in Chinese for me. He's already 89 years old but I was so honored tonight because he came to watch the movie premiere. Also Mr. Gary Locke (the American ambassador to China) came with his wife and children in support of the film. At the end of the event, Leehom came up to me and said that he really enjoyed the film. He even said that there were parts when he had tears in his eyes.
I love making movies and I love you all!
Early tomorrow morning, I will be flying to Hong Kong for the Hong Kong premiere for CZ12. The next few weeks are going to be super busy with promoting my movie.
Don't forget that the nationwide release (in Asia) is on the 20th December, 2012. I hope all my fans will enjoy the film. Remember to let me know what you think after you see it!
Text and Photos Copyright © 2012 The JC Group
All Rights Reserved