After New York, I went to Toronto and attended the Toronto Film Festival. Straight after attending an event there, I quickly rushed back to Beijing. But my schedule was so busy. I only spent less than half a day in Beijing and then I had to catch a six hour flight to New Delhi, India. By the time I arrived in India, it was already past 2:00am.
This time I was in India to attend the Chinese Film Festival. The last time I was here, I think was almost 10 years ago when I filmed The Myth. Unfortunately, because my schedule is so tight, I only stayed in India for one and a half days. I honestly have to say, the enthusiasm of my fans here is great! Apart from doing interviews with the media, organizers here suggested that I sing Country during the event. At that moment in time, I thought to myself, does the Indian audience understand what I sing? After singing the song, I truly believe that music has no borders because everyone in the audience clapped to the beat of the music.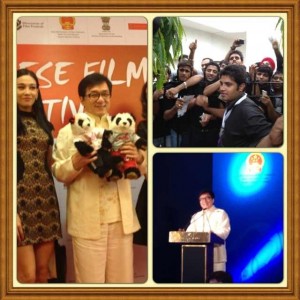 After attending the official event, I made most of the time I had in India and visited a local charitable organization that specializes in helping women and children. I saw so many innocent faces and they all performed for me, dancing and singing songs. I kept asking my friends, how can I help them? I want to do my best to help these people.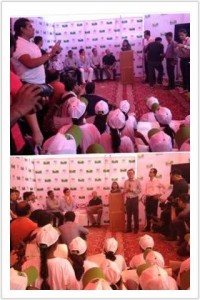 At 3:00am, I had to board the plane again and take a 6 hour flight back to Beijing.
從多倫多趕回北京,留不了半天,晚上又乘6個小時的飛機到印度新德里,到達時已是凌晨兩點多,為了參加在當地舉辦的"中國電影節"。距離拍"神話"到現在,差不多十年了。這次只有一天半的行程,FANS的熱情有增無減。除了訪問,主辦方建議我唱"國家",我還猶豫了一下,印度的觀眾能聽得懂嗎?事實證明,音樂無疆界,台下的觀眾,一齊跟著音樂的節奏拍手。
官方活動之餘,我又爭取時間訪問當地的一個專門救助婦女與小孩的慈善團體。看到一個個天真的臉孔,為我表演唱歌、舞蹈,我不斷問身邊的朋友,如何能盡我一點力幫助他們。
凌晨3點多,我又要上飛機了,6個小時后,北京又要歡迎我.
Text and Photos Copyright © 2013 The JC Group HK
All Rights Reserved